Ingredients
1/3 c chopped onion
6T butter
2 ½ c basmati rice
uncooked
4 ½ c boiling chicken broth
Salt and pepper to taste
½ lb sautéed sliced mushrooms (optional)
¼ c cashews (optional)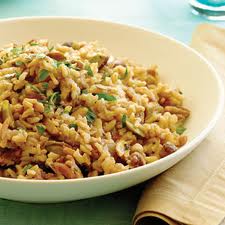 Directions
Pre-heat oven to 375.

In a frying pan, sauté the onions in butter until soft.

Add the rice and continue cooking, stirring constantly, until the rice is opaque but not brown.

Add the broth and seasonings and transfer to a covered baking dish.

Bake for 5 minutes, then reduce oven to 350 and bake an additional 15 – 20 minutes.

Add mushrooms and cashews if desired.