Ingredients
6 c rolled oats
1 ½ c large nuts
coarsely chopped
½ c smaller nuts and seeds
1/3 c toasted coconut flakes
1/3 c wheatgerm
½ c flour or cornmeal
¾ t salt
¾ c oil
½ c honey
1 ½ t vanilla
½ t almond extract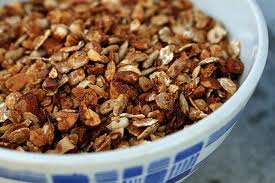 Directions
Combine the dry ingredients and wet ingredients separately.

Pour the wet ingredients into the dry ingredients and stir.

Spread the mixture on an ungreased sheet and bake at 350 for 30 – 40 min, stirring every 10 min, until golden brown.

Watch the baking process near the end to prevent burning.

Cool the granola completely before storing. Add raisins, coconut flakes or dried fruit as desired.