Ingredients
½ c oil
¼ c vinegar
¼ c sugar
2 T soy sauce
1 mdium head of cabbage
shredded
2 3-oz packages Ramen Noodles
6 oz slivered almonds
¼ c sesame seeds
1 stick (or less) butter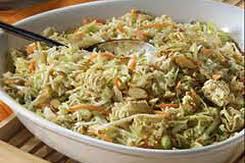 Directions
For the dressing, Combine the following: ½ c oil, ¼ c vinegar, ¼ c sugar, 2 T soy sauce, heat until sugar is dissolved, then set aside.

Melt the butter and add the almonds, sesame seeds, and broken-up raw Ramen noodles.

Stir-fry until slightly browned and remove from heat.

Add this warm mixture to the cabbage and add dressing. Stir well.

Best if the salad is combined just prior to serving.